Cycling the Danube, part I
Bavarian culture, medieval flair and a gentle cycle path along the German Danube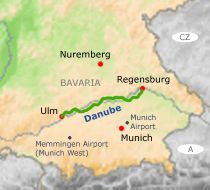 Daily distance: 30-53 km Length: 7 days / 6 nights
Tour type: Guided cycle tour, small group cycling holidays
Highlights:
Cycling unspoilt countryside along the Danube
Gaining an insight into Bavarian traditions and culture on several guided walks
Taking a recuperating bath at Limes hot springs
In brief: Do you dare to cycle Bavaria? The land of pot-bellied folk in leather trousers who party at large festivals and are ruled by a mad king? Well, we can assure you that at least the cycle paths are safe.
Follow us on our guided cycle tour along the Danube through unspoilt countryside and charming little towns; or charming big towns, such as Ulm with its fishermen's quarter or Regensburg with its medieval city centre. We invite you to cycle the paths that only our guides know and to dine at places that only locals go to. Take a hot bath at springs that the Romans already used for relaxation. After all, expect a (slightly) demanding but no less rewarding week of cycling through a wonderful part of Germany.
Route profile: Generally flat terrain
Cycle path characteristics: Mostly paved, rarely on compacted gravel or dirt, 90% dedicated cycle paths, 10% very quiet back roads