Cycling the Bavarian Lakes, Landsberg to Bad Tolz
Discovering picture-perfect countryside in the foothills of the Bavarian Alps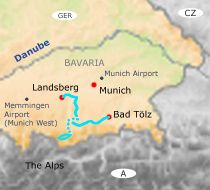 Daily distance: 32-45 km Length: 7 days / 6 nights
Tour type: Guided cycle tour, small group cycling holidays
Highlights:
Spectacular views of the Bavarian Alps
Frescoed houses of Oberammergau and Bad Tölz
Visit to Oberammergau Passion Play theatre and the Mad King's Linderhof Palace
In brief: Bavaria between Munich and the Alps is famous for its unique countryside, quaint villages and crystal-clear waters, mixing with fields and pasture land, all overlooked by lush alpine scenery. On this cycling holiday you will get to enjoy the countryside every day. You will discover Bavarian traditions, beliefs and culinary culture – the latter at first-hand every dinner.
On our way from Landsberg to Bad Tölz we pass places that are well known beyond the borders: Oberammergau with its tradition of passion plays since 1634, and Linderhof Palace, where King Ludwig II lived secluded for many years before his life ended as abruptly as mysteriously. Come and join us on this ride!
Route profile: Mostly in flat terrain, mixed with a few manageable climbs
Cycle path characteristics: Predominantly paved surface, 80% dedicated cycle paths, 20% quiet back roads