Cycling the Austrian Danube, Passau to Vienna
Relaxing cycling holidays on the Austrian Danube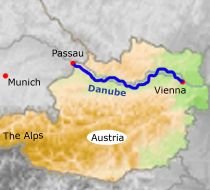 Daily distance: 30-60 km Length: 7 days / 6 nights
Tour type: Guided cycle tour, small group cycling holidays
Highlights:
Cycling on cycle paths right by the Danube for miles and miles
Visiting magnificent Melk Abbey with a local guide
Cycling the vineyards of the Wachau region, topped off by a walk with a vintner and a wine tasting
In brief: As Europe's second-longest river, the Danube always played an important role for merchants and travellers. Barges were pulled upstream, allowing efficient trade and travel before the advent of steamboats. Today, more and more cyclists are using the converted towpaths to explore the continent and its cultures along the river.
The cycle path from Passau, Germany to Vienna, Austria's capital is about 150 miles. Your journey leads you through changing landscape, from densely forested hillsides in the Donauleiten nature reserve to the sun-kissed vineyards of the Wachau region. You will have the chance to try the world's oldest known torte in Linz, fine wines of the Wachau and exquisite coffee at Vienna's coffee houses.
Route profile: Flat terrain, mostly right next to the Danube
Cycle path characteristics: Paved all the way, 92% dedicated cycle paths, 8% quiet back roads