Cycling the lower Romantic Road
A two-wheeled adventure in mediaeval Germany, suitable for knights and queens alike (jester welcome)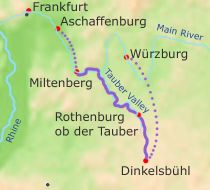 Daily distance: 38-53 km Length: 7 days / 6 nights
Tour type: Guided cycle tour, small group cycling holidays
Highlights:
Peacefully cycling down the Tauber Valley and along the Main river
Visiting Dinkelsbühl and Rothenburg, two of the best-preserved mediaeval towns in Europe
Meeting the dwarfs of Weikersheim Palace that populate the place for over 300 years now
In brief: This tour will take you to some of Germany's most impressive places: discover mediaeval architecture at its best, see parks and castles and monasteries. And all along that, a cycleway that couldn't be more comforting.
With two nights in Rothenburg you enjoy a cycling-free day, if you like. You will be able to visit all the historic sights, admire the hand-carved altars at St. Jakobus from around 1500, and take a million pictures of dramatic views across the Tauber valley.
Route profile: Generally flat terrain; a few, short climbs on day four and five
Cycle path characteristics: All paved except for 1.5 mi on packed dirt, 85% dedicated cycle paths, 15% very quiet back roads