Cycling the lower Romantic Road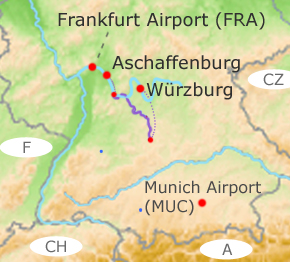 Departure dates 2022:
Feel invited to sign up to our newsletter and be the first to learn about the 2022 departure dates.
Mercurio transfer service:
On arrival: Included in this tour is a transfer from Frankfurt Airport/Frankfurt to Würzburg. Estimate 1:20 hrs. It will be either by mini-bus or by train. Once you arrive in Würzburg, we collect your luggage and you are free to explore the city. Later, at 5 pm, the entire group meets again and boards the bus to our hotel in Dinkelsbühl. To make it for the 5 pm gathering, you are advised to arrive in Frankfurt not later than 3 pm.
Consider arriving in Würzburg one day ahead to discover the city and its heritage. (See below)
On departure: Included in this tour is a transfer to Frankfurt/Frankfurt Airport on the last day of the tour. This transfer is carried out by one or two mini-busses. If equally convenient, we provide tickets for direct trains to Frankfurt/Frankfurt Airport.
If you like or need to spend additional time in Würzburg, we recommend arriving a day earlier. In this case you will have to make your own arrangements in order to get to Würzburg. Direct trains from Frankfurt Airport as well as from Munich run regularly. Train schedules can be found on www.bahn.com. We advise booking your hotel in Würzburg as early as possible. Feel invited to ask us for assistance.
Getting there by train (from the UK)
There are several train connections from London St. Pancras station every day. The journey includes the Eurostar and takes about six to eight hours one way. To gather detailed information, we recommend visiting either en.oui.sncf or www.bahn.com. Please talk to us before buying your ticket.
Flight connections (from the UK and Ireland):
As most of our guests prefer to arrive by plane, we put together an overview over respective flight connections here:
| | | | |
| --- | --- | --- | --- |
| Domestic airport | To/From | Airline | Remarks |
| Birmingham | Frankfurt (FRA) | Dt. Lufthansa | |
| Dublin | Frankfurt (FRA) | AerLingus, Dt. Lufthansa | |
| Dublin | Frankfurt (FRA) | RyanAir | additional accommodation necessary as flights are at the edge of the day |
| Edinburgh | Frankfurt (FRA) | Dt. Lufthansa | |
| Edinburgh | Frankfurt (FRA) via Heathrow | British Airways | |
| Glasgow | Frankfurt (FRA) | Dt. Lufthansa | Sat and Sun: late afternoon flights |
| Glasgow | Frankfurt (FRA) via Amsterdam or Heathrow | KLM, British Airways | |
| Leeds/Bradford | Frankfurt (FRA) via Amsterdam or Heathrow | KLM, British Airways | |
| London Stansted | Frankfurt (FRA) | RyanAir | |
| London Heathrow and City | Frankfurt (FRA) | British Airways | |
| London Heathrow | Frankfurt (FRA) | Dt. Lufthansa | |
| Manchester | Frankfurt (FRA) | Dt. Lufthansa | |
| Manchester | Frankfurt (FRA) via Amsterdam or Heathrow | KLM, British Airways | |
| Shannon | Frankfurt (FRA) | Dt. Lufthansa | one weekly flight: Saturday (late) afternoon |