Cycling the Bavarian Lakes, Landsberg to Bad Tolz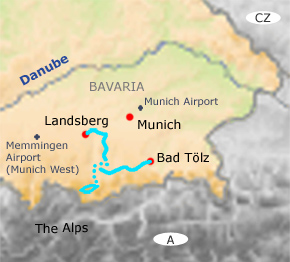 Departure dates 2021:
The 2020 Passion Play in Oberammergau will make it impossible to go there with a cycling group in 2020. Therefore, please note that this tour 'takes a break' in 2020. The tour will return in 2021.
Mercurio shuttle service:
Included in each of our tours is a shuttle service from the nearest major airports and train stations. This shuttle operates throughout the day, at the beginning and at the end of your cycling holiday.
Pick-up points and approximate transfer times on arrival:
Munich Airport (MUC) - 1hr
Munich main station - 45min
Munich West Airport / Memmingen (FMM) - 40min
Drop-off points and approximate transfer times on departure:
Munich Airport (MUC) - 1hr 5min
Munich main station - 55min
An express bus service to Munich West Airport departs from Munich main station regularly.
If you decide to arrive earlier, you will have to make your own arrangement for travelling to Landsberg. We recommend taking the train in this case.
Trains from Munich main station depart twice per hour and take about 50 minutes with one change in Kaufering. Estimate €13 per person for a 2nd class ticket. You will find detailed information on www.bahn.com, the national carrier's website. Look for a connection between 'Munich' and 'Landsberg(Lech)'.
Flight connections:
As most of our guests prefer to arrive by plane, we put together an overview over respective flight connections here:
| | | | |
| --- | --- | --- | --- |
| Domestic airport | To/From | Airline | Remarks * |
| Birmingham | Munich | Dt. Lufthansa | |
| Birmingham | Munich (via Amsterdam or Paris) | KLM | |
| Bristol | Munich (via Amsterdam) | KLM | |
| Edinburgh | Munich | EasyJet | mostly evening flights |
| Edinburgh | Munich (via Amsterdam, Frankfurt or London) | KLM, British Airways, Dt. Lufthansa | |
| Glasgow | Munich (via Amsterdam) | KLM | morning outbound, evening inbound flight |
| London Heathrow | Munich | British Airways, Dt. Lufthansa, AirBerlin | |
| London Heathrow | Munich (via Zurich, Amsterdam or Paris) | Swissair, KLM, AirFrance | |
| London Gatwick & Stansted | Munich | easyJet | |
| London Stansted | Munich (via Dusseldorf) | Air Berlin | |
| London Stansted | Munich West (Memmingen) ** | RyanAir | operates daily except Thursdays |
| Manchester | Munich | easyJet | evening flights, operates not on Tue/Wed/Sat |
| Manchester | Munich | Dt. Lufthansa, Singapore Airlines | |
| Manchester | Munich (via Zurich or Amsterdam) | Swissair, KLM | |
| Dublin | Munich | AerLingus | morning outbound, evening inbound flight |
| Dublin | Memmingen (Munich West) ** | RyanAir | operates Mon/Wed/ Fri/Sun only |
| Shannon | Memmingen (Munich West) ** | RyanAir | operates Tue/Thu/Sat only |
| Cork | Munich | AirLingus | operates Tue and Sat only |

Last updated: October 2019, please ask your preferred ticket dealer for an actual quote.
*) Annotation:
evening outbound flight - guests arriving after 5.30pm will have dinner on their way to Landsberg
extended stopover - expect spending some extra time at the stopover airport
**) Airport Express Bus service from (and to) Munich main station available, shuttle service from Munich West on arrival is included