Cycling the Bavarian Lakes, Landsberg to Bad Tolz
What our Guests say keeps us rolling: When asking our guests "Would you recommend Mercurio Bike Travel to your friends?" we usually receive an "Always". 97% of our holiday makers rate us with ten out of ten. Feel free to ask us for a contact of a former guest near your place.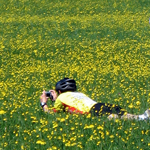 David from Leeds

... wrote: "It had been another marvellous week with Mercurio. I'm looking forward to joining another trip next year."

... liked most: "... the excellent cycle tracks away from the roads."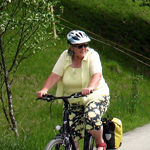 Susan from Flintshire

... liked most when cycling the Bavarian Lakes with us:
"The cable car up the Laber mountain and visiting Linderhof Palace on Wednesday,
the cycling, the company, the weather,
ecxellent hotel room every time"
To our previous guests: If you would like to contribute a feedback here, please let us know. We will be more than happy posting your comments. Please use the >Contact Us< page or send us an e-mail. Thank you in advance!