Cycling the Danube, part I
What our Guests say keeps us rolling: When asking our guests "Would you recommend Mercurio Bike Travel to your friends?" we usually receive an "Always". 97% of our holiday makers rate us with ten out of ten. Feel free to ask us for a contact of a former guest near your place.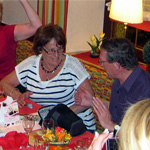 Gill from Welwyn Garden City

... liked most: "The thermal baths in Bad Gogging."

... about her cycle holidays: "It was fantastically good fun, well organised and not over-demanding."
Rosie from North Yorkshire

... about her cycle tour: "This holiday has been very meticulously organised. Our guides have taken great care of us and provided some great treats and special memories."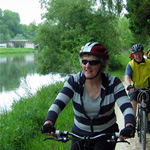 Liz from Hertfordshire

... liked most: "Our guides attention to detail."

... about her cycle tour: "This holiday has been well organised, action packed, good fun and memorable - loved every minute of it!"
Leo from Dublin
... about her ride along the Danube: "Without doubt, one of the most enjoyable weeks I have spent. I met lovely likeminded travellers. Sincerely appreciated the excellent organisation and planning that went into the tour, and the friendliness and support of our guide and his assistant. Loved the cycle route taking in beautiful scenery, landscapes and pretty villages."
Trish from Macclesfield
... liked most when cycling the Danube river: "The camaraderie, the whole team supported each other giving a great atmosphere of fun and friendship."
... about her cycle holidays: "It wasn't just a good holiday but a fantastic achievement also (for me)."
To our previous guests: If you would like to contribute a feedback here, please let us know. We will be more than happy posting your comments. Please use the >Contact Us< page or send us an e-mail. Thank you in advance!