Cycling the Danube, part II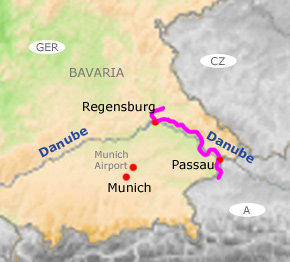 Departure date 2023:
The Danube II tour 'takes a break' in 2023. But we will offer it in 2024 again. Feel invited to sign up to our newsletter and be the first to learn about the next departure once it is scheduled.
Mercurio shuttle service:
Included in our cycle tours is a transfer service from the nearest major airports and train stations. The transfers are offered throughout the entire day, at the beginning and at the end of your cycling holidays.
Pick-up points and approximate transfer times on arrival:
Munich Airport (MUC) - 1hr 15min
Munich main station ("München Hauptbahnhof") - 1hr 30min
Any place in central Munich - 1hr 30min
Regensburg main station ("Regensburg Hauptbahnhof") - 10min
Drop-off points and approximate transfer times on departure:
Munich Airport (MUC) - 1hr 30min
Munich main station ("München Hauptbahnhof") - 2hrs
Any place in central Munich - 2hrs