Cycling the Danube, part II
What our Guests say keeps us rolling: When asking our guests "Would you recommend Mercurio Bike Travel to your friends?" we usually receive an "Always". 97% of our holiday makers rate us with ten out of ten. Feel free to ask us for a contact of a former guest near your place.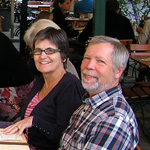 Pauline (and John) from West Sussex

"This holiday was my first cycling holiday and will certainly not be my last. I had a fabulous time and appreciated our guide's attention to details."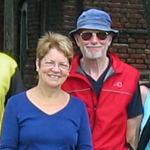 Gwyneth from Lancashire
... liked most when cycling the Danube: "I enjoyed all. But especially the Passau tour and the town hall [of Passau]."
... summarised her cycle tour in a short quote: "Sharing a calm and tranquil route with like minded people; with wonderful lunches and excellent support."
Betsy from Maryland
... liked most when cycling from Regensburg to Passau with us: "Tours of Regensburg, Straubing Tower and Passau; the gorgeous windows at the church in Pondorf; all of the jolly dinners."
... about her cycling holiday in Europe: "Lovely landscape, picturesque towns, congenial company, time for reflection and relaxation, comfortable accommodations. Our guide's attention to detail allowed us all to relax and enjoy ourselves."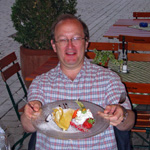 Martin from Kenilworth
... about his cycle holidays in Bavaria: "A healthy and relaxing break spent in good company with good food."
(Picture: receiving his dessert, a delicious pancake with home-made cream and strawberries)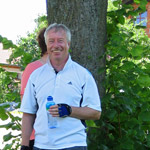 Paul from Cheshire
... liked most when cycling the Danube in Bavaria: "Riding through beautiful countryside, the food, city tours, the ice cream!"
... about his cycle holidays: "This is the best way to see the country and meet the people."
To our previous guests: If you would like to contribute a feedback here, please let us know. We will be more than happy posting your comments. Please use the >Contact Us< page or send us an e-mail. Thank you in advance!