The guides on our cycle tours
At Mercurio Bike Travel you will find nothing but guided cycling holidays. You will receive insights that can't be found in any written tour book. Our guides are bilingual, making it easy for you to get all your questions answered.
Besides guiding you around during the day and joining the group for dinner, they arrange luggage transport to the next hotel and prepare delicious picnics at lunchtime. They offer a seat in our escort van if needed and take care of anything else that may come up.
Meet four of our tour guides here:
Name: Andre Volkel
Born: 1981
Service: Tour Guide
(and owner of Mercurio Bike Travel)
"The cycle routes in Germany and Austria have a lot to offer: On well maintained cycle paths you cycle through lush green and unspoiled nature, pass historical places and charming villages. I regard cycling as the ideal way to relax and recover. It keeps me hale and hearty, every day."
Name: Roberto Muller
Born: 1971
Service: Technical Support
"It's terrific to see individuals becoming friends on our tours. Over every tour, I observe a growing team spirit which results in camaraderie and friendship. Some guests even arrange to meet again on another cycling holiday. It's fun to welcome former guests year after year."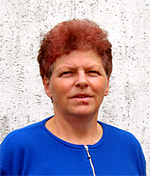 Name: Petra Hanse
Born: 1952
Service: Tour Guide
"I really like the conversations at dinner – a perfect opportunity to chat about the country and its people and to learn about the local cuisine. I believe that eating and drinking is an important part of travelling."
Name: Lutz Penaro
Born: 1963
Service: Technical Support
"I look after our bicycles and assure that our guests ride safely and in comfort. In the rare case of a flat tyre, I am on the spot and fix it straight away."