Cycling the River Elbe, Wittenberg to Dresden
What our Guests say keeps us rolling: When asking our guests "Would you recommend Mercurio Bike Travel to your friends?" we usually receive an "Always". 97% of our holiday makers rate us with ten out of ten. Feel free to ask us for a contact of a former guest near your place.
Colm from Chester

... about his cycle tour: "This holiday has been an unexpected delight. Everything was well organised."
... particularly liked: "The excellent restaurants and Meißen*."

*: Meißen with its perfectly restored old town centre, its tradition in porcelain making and the magnificent view from Albrechtsburg Castle above the town is always a big surprise for our guests.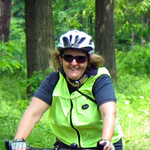 Rosina from Hobart, Tasmania
... liked most: "riding through countryside, gaining insight into history and culture, the camaraderie"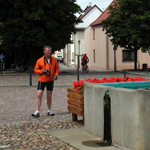 Anne & Arthur from Sunderland

"Dear Andre Just a quick note to thank you so much for a wonderful cycle holiday we both enjoyed it so much - it was beyond our expectations and we will definitely be recommending your trips to our friends."
[Arthur taking pictures at the market square in Belgern]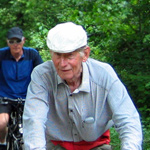 David from Southgate

... particularly liked when we had to explore the countryside away from the Elbe because of the floods. *
"Thanks again for a superb cycling holiday!"
*: The century flooding of 2013 came upon the group and forced our guides to find new routes every day.
To our previous guests: If you would like to contribute a feedback here, please let us know. We will be more than happy posting your comments. Please use the >Contact Us< page or send us an e-mail. Thank you in advance!